Medium Wave Bandscan

Bandscan time accumulated spectrum analysis of Medium Wave in south west London, March 1985.
In association with appeals to the Home Secretary for a licence, and published
in the booklet Encouraging Growth And Competition In The U.K. Radio Industry,
this unique snapshot in time shows North Sea stations Laser 558, from the Communicator,
with Radio Caroline 576 and Radio Monique 963, from the Ross Revenge, in their heyday -
along with dozens of channels suitable for Radio Jackie.

"Not available" Radio Jackie frequency, 1332kHz, was subsequently 'discovered' by the Radio Authority... in 1995, for Premier Radio.
This daytime band scan of the entire medium wave in Worcester Park, 1200-1300 GMT, 5 March 1985, is displayed here as one continuous span.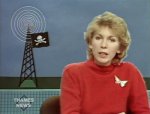 There are hundreds more early photographs and history, 1985 back to 1969, in the Archive
here
or as a slideshow
here
.